Shaded Pole Motor Oven Refrigerator Diswasher 61 Series
Brand LP
Product origin GUANGDONG
Delivery time 15 days
Supply capacity 20000 pcs per day
1. Reasonable structure design, flexible lead-out direction, can be connected to ground terminal and lead terminal connector.
2. Superior shaded pole motor performance, low noise, low vibration, high performance protection level.
3. The optimized design has high energy efficiency and considerable energy saving effect
4. BMC wiring component could be replace traditional wiring component,to avoid wire broken problem during transportation.
Shaded Pole Motor Oven Refrigerator Diswasher 61 Series
1. This motor has a wide range of applications. The stack thickness can be customized according to customer requirements, ranging from 10mm-30mm. It can be used in ovens, microwave ovens, refrigerators, dishwashers, electric fans, air purifiers and other household appliances.
2. The size of the shaft diameter of the motor shaft can be changed to adapt to different load installations.
3. Copper wire, aluminum wire, copper clad aluminum wire can be used for the motor wire package.
4. The motor can be used for a long time under the oven high temperature environment of up to 180 degrees, with stable performance.
5. The motor is suitable for use in different environments. For refrigerators, dishwashers and other environments with relatively high humidity, the glue-filled sealing wire package can be used to achieve the effect of waterproof and anti-corrosion.
Product picture:

Product dimension: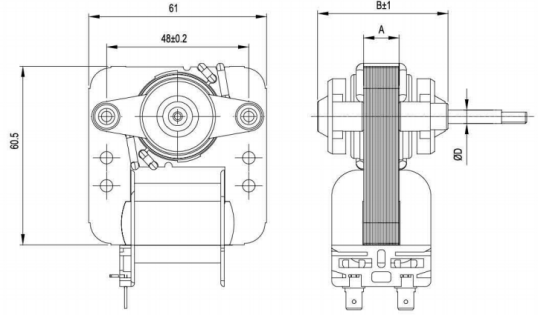 Technical parameters: