Permanent-Magnet Universal Hand Blender DC 2733 Motor
Brand LP
Product origin GUANGDONG
Delivery time 15 days
Supply capacity 20000 pcs per day
Applications:
Hand blender, home application, medical apparatus
This motor has approved by TUV test.
Product Name:Permanent-Magnet AC/DC Universal Motor
MODEL NO:DC423327-2(EMC)
SPEED:11000r/min
VOLTAGE:DC230V
OUTPUT POWER:90W I
STALLED POWER:850W
Permanent-Magnet Universal Hand Blender DC 2733 Motor
Technical conditions:
⒈ Rated voltage: full-wave rectification;
⒉ Motor steering: cw shaft extension end view;
⒊ Insulation class: Class H;
⒋ Work system: S3
⒌ Axial virtual position: 0.3 ~ 0.8;
⒍ Pull-off force of connecting piece: ≥ 7.5KG;
⒎ Withstand voltage test: 1500V/DC/1mA/1S;
8. Locked-rotor test: the motor is blocked at the rated voltage until the fuse is disconnected,
After cooling to normal temperature, the motor has no faults and meets safety requirements;
9. Temperature rise test: The motor requires a temperature rise under voltage.
Product picture: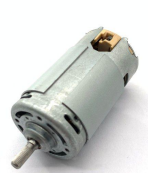 Product dimension: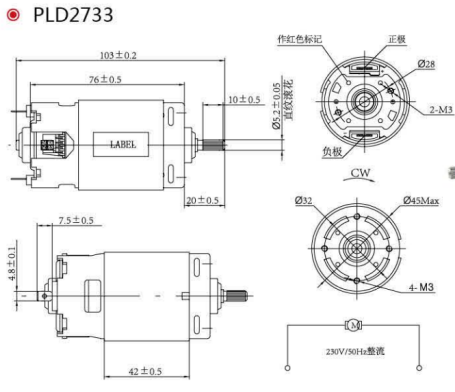 Product parameters: